2019 AURORA PRIZE LAUREATE ANNOUNCED AS YAZIDI ACTIVIST MIRZA DINNAYI
The fourth annual Aurora Prize for Awakening Humanity was awarded today to Mirza Dinnayi, Co-Founder and Director of Luftbrücke Irak (Air Bridge Iraq). Driven by his passion to save lives, the Yazidi activist has found a way to overcome numerous bureaucratic and logistic obstacles to help the most vulnerable members of the Yazidi community during numerous conflicts in Syria and Iraq. He was named the 2019 Aurora Laureate at the Ceremony in Yerevan that was held during the Aurora Forum. The Aurora Prize is granted by the Aurora Humanitarian Initiative on behalf of the survivors of the Armenian Genocide and in gratitude to their saviors.
Tom Catena, Aurora Humanitarian Initiative Chair and 2017 Aurora Prize Laureate, praised the 2019 Aurora Prize Laureate Mirza Dinnayi by saying: "What makes Mirza Dinnayi an outstanding human being is the fact he couldn't live in good conscience knowing that good people are left behind, that the innocent are suffering. Trying to help others while facing an unspeakable evil can be challenging and frustrating, but he never wavered. I am delighted to congratulate Mirza Dinnayi with being awarded with the Prize and welcome him to the Aurora family."
As the 2019 Aurora Prize Laureate, Mirza Dinnayi will receive a $1,000,000 grant, through which he is given the opportunity to continue the cycle of giving by supporting organizations that have inspired his work. He has chosen to donate the funds to three organizations that provide medical care and rehabilitation to victims of ISIS terror:
Air Bridge Iraq;
SEED Foundation;
Shai Fund.
Vartan Gregorian, Co-Founder of the Aurora Prize and Member of the Selection Committee, added: "The Aurora Humanitarian Initiative empowers those who risk everything for the sake of others and show extraordinary courage and conviction in situations of adversity, and Mirza Dinnayi is a perfect example of that. He embodies the power of compassion, of personal commitment, of a burning desire to save lives. As one of the Aurora Co-Founders and a member of the Selection Committee, I am very proud that our shared vision has helped showcase the work of Mirza Dinnayi, who now, without doubt, will be able to achieve even more."
Working on behalf of the Yazidi community, Mirza Dinnayi has dedicated his whole life to saving the victims of the Iraq war, evacuating women and children from territories controlled by ISIS and providing those tortured and violated with rehabilitation and support. It was Dinnayi who brought to Germany the future Sakharov Prize Laureate Lamya Haji Bashar. Today, she is a renowned human rights activist and has one of Aurora's scholarships named after her.
Leading international humanitarian figures and Aurora Prize Selection Committee members, including Nobel Laureates Shirin Ebadi and Leymah Gbowee; former president of Ireland Mary Robinson; former foreign minister of Australia and President Emeritus of the International Crisis Group Gareth Evans; former president of Mexico Ernesto Zedillo and Director of the Institute of Global Health Innovation at Imperial College London and Chair of the Aurora Prize Selection Committee Lord Ara Darzi gathered in Armenia to attend the inaugural Aurora Forum and celebrate the 2019 Aurora Prize Laureate.
Previous Aurora Prize Laureates include several noted international humanitarians – Burundian activist Marguerite Barankitse (2016), American physician and missionary Dr. Tom Catena (2017) and Rohingya lawyer and human rights campaigner Kyaw Hla Aung (2018).
Nobel Prize Laureate and a member of the Aurora Prize Selection Committee Leymah Gbowee commented: "The very name of the Aurore Prize for Awakening Humanity contains the most important message of this unique award. Right now, the world feels the need for humanity to rise and for people to step up. Mirza Dinnayi, whose courage and selflessness are a credit to his people, is doing just that: taking care of women and children, who suffer the most in a conflict situation, and putting himself at risk to save others. What an outstanding humanitarian."
The Aurora Humanitarian Initiative also honored the contributions of the other two 2019 Aurora Humanitarians who received a $50,000 grant each: Zannah Bukar Mustapha, Director and Founder of Future Prowess Islamic Foundation in Nigeria, and Huda Al-Sarari, Yemeni lawyer and activist.
The 2019 Aurora Prize Ceremony was part of the Aurora Forum, held in Armenia on October 14–21, 2019 and convening thought leaders and change-makers from across the world to share knowledge, perspective and ideas, which together can deliver practical action and change. The Forum far-reaching agenda is driven by partner institutions with a shared commitment to address global challenges and local development.
21.10.2019
https://auroraprize.com/en/aurora/detail/14459/2019-aurora-prize-laureate-announced-as-yazidi-activist-mirza-dinnayi
Mirza Dinnayi, co-founder and director of the association Luftbrücke Irak, was voted into the finalist selection of the Aurora Humanitarian Initiative.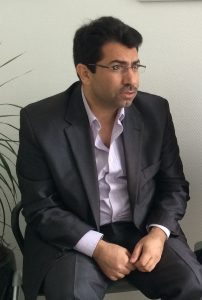 The Aurora Prize for Awakening Humanity acknowledges three exceptional personalities of the humanitarian community for their honorable engagement for the liberation of women from ISIS captivity, for the fight against a network of secret prisons in Yemen and at the negotiations for the release of abducted school girls in Nigeria.
https://auroraprize.com/de/aurora/detail/14148/aurorafinalisten-2019-
Fighter or Human Rights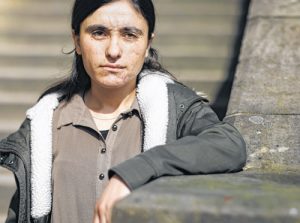 Lamija Adschi Bashar signs into the Golden Book of the city of Osnabrueck.
Her visit to Osnabrueck is also a reminiscence to the association Luftbrücke Iraq, which is located here, which brought the young Yazidi to Germany. Bashar was gravely injured
at that time. During her flight from the terrorist militia Islamic State (IS), she had
stepped on a land mine, which killed two of her friends. She herself escaped almost
blinded and with further severest injuries.
In 2014 Bashar was a victim of a bloody ethnic cleansing
carried out by the IS in her hometown Kocho. The men of the town were killed for
the most part, the women, girls and children were sold
as slaves and heavily sexually abused. Lamija Adschi Bashar offered resistance
and attempted to escape several times during her 20 months
of captivity, the last one ending on a land mine between the
IS-occupied part of Iraq and the Kurdish part of the country.
Bashar stands up for the 3000 Yazidi women, who
are still in the hands of the IS.
To visit Cities of Peace such as Osnabrueck in her home country one day, is a strong desire, said Bashar. She thanked the Germany citizens, who helped the people in her country. Earlier, Lord Mayor Wolfgang Griesert emphasized that Bashar stands up "with strongest insistence" for Human Rights,
especially for the rights of the Yazidi community in Iraq.
"With the engagement and with the description of the cruelties you experienced,
you are reminding us to take actions against violence and terror. You are reminding
us most strongly of the immense luck we are allowed to enjoy here
in the middle of Europe, to live in over 70 years of inner and outer peace",
Griesert went on. Osnabrueck's LM also thanked the association
Luftbrücke, who advocates for injured children and war victims from Iraq.
In the past year, Lamija Adschi Bashar won the Sakharov Prize for Freedom of Thought
for her engagement together with Nadia Murad
which is also known as EU Human Rights Prize.
http://www.noz.de/lokales-os/osnabrueck/galerie/62833/goldenes-buch-osnabrueck-2017#gallery&62833&0&1720079
The face of raw courage:
Brave Yazidi teenager was kidnapped by jihadis and sold into sexual slavery before being injured in an explosion as she made a daring dash for freedom. Read more:
http://www.dailymail.co.uk/news/article-4098340/The-face-raw-courage-Brave-Yazidi-teenager-kidnapped-jihadis-sold-sexual-slavery-injured-explosion-daring-dash-freedom.html
10,000 Euro for the refugee work of the Caritas Osnabrueck.
War and terror overshadow the everyday life in Iraq. Since summer 2007
the Osnabrueck association Luftbrücke Irak hence organizes the treatment of
seriously injured children in Germany hospitals. Through a donation of 10,000 Euro
for the refugee work of the Caritas Osnabrueck, the association now affirms the cooperation of the associations.
http://www.noz.de/lokales/osnabrueck/artikel/668239/10-000-euro-fur-fluchtlingsarbeit-der-caritas-osnabruck
European Parliament Prize honours two Yazidi victims of IS
brutality, Nadia Murad and Lamiya Aji Bashar (Video)
The European Parliament Sakharov Prize 2016 goes to Nadia Murad Basee Taha
and Lamiya Aji Bashar. Both women are survivors of sexual enslavement by
Islamic State (IS) and have become spokespersons for women afflicted by IS's campaign of sexual violence.
http://www.europarltv.europa.eu/en/player.aspx?pid=66652a5a-2149-461c-be9e-a6ac010869c0
Two Yazidi survivors of IS group win Sakharov prize
Nadia Murad and Lamia Haji Bashar have become figureheads for Yazidi victims of kidnapping, rape and slavery by the Islamic State
http://www.middleeasteye.net/news/two-yazidi-survivors-group-win-sakharov-prize-1222838686
Two Yazidi women who gave the slip to IS win Sakharov prize: sources
Nadia Murad and Lamia Haji Bashar had to endure months of sex slavery before becoming icons of their community.
http://www.thehindu.com/news/international/two-yazidi-women-survivors-of-is-group-win-sakharov-prize-sources/article9276015.ece
Nomination is a strong signal for Yazidi minority
S&D officially nominates members of the Yazidi minority for the Sakharov Prize 2016.
http://www.ots.at/presseaussendung/OTS_20160915_OTS0218/weidenholzer-nominierung-ist-starkes-signal-fuer-jesidische-minderheit
Park for a good cause
Cathedral school opens their parking lot during advent in return for donations
"Park and help" was the motto on a Saturday in December 2008 at the Cathedral school.
The schoolyard was made available as a near-to-centre parking lot in Osnabrueck.
From 9.30 a.m. to 6 p.m. car drivers could park their car there for 5 Euro for however long they wanted.
The ninth grade of the cathedral school, who carried out the campaign, donated the proceeds to a charitable initiative.
The project Luftbrücke Irak e.V. benefitted from the money.
Through this, children and teenager from Iraq could already successfully be helped in Osnabrueck and Aachen.